2 DIN Android 12 | GPS car radio and multimedia center
This device is a pure Android computer, GPS navigator and multimedia player in your car. All Google Play apps are supported, e.g. GoogleMap, Waze, Youtube, Spotify, etc. The device is compatible with all mobile phones.

Android 12 | Octa-Core Coretex A53 (2,5GhZ) | Bluetooth 5.0 hands free calls and music stream | 4 x 45 W Surround Stereo
7" inch touch screen | 2DIN Universal Android GPS navigation radio
2 DIN
XTRONS TEX726L ISO standard 2DIN universal radio. The 2DIN radio fits into the ISO standard mounting hole 4"x7" inches, i.e. approx. 100x180 mm.
Android 12 | Octa-Core | Coretex A53 (2,5GhZ) | 4 Gb RAM | 64 Gb ROM
NB! You don't need an Android phone to use the Android car radio. This radio is an Android computer with functions similar to a regular tablet. The media player is compatible with every phone. It doesn't matter if it's Android or iOS.
This car radio is a modern media center that turns every car ride into an experience! Android GPS Radio brings all modern navigation apps to your car - Waze, Google Maps and iGo. In addition to the usual FM radio function, Android also allows the use of GooglePlay applications, bringing entertainment to the car - Spotify, YouTube, Gmail, Chrome etc. If desired, social media and email applications can also be installed in the car's multimedia radio - Facebook, Instagram, Gmail, TikTok etc. The built-in Bluetooth hands-free phone feature also lets you stream music from your phone. The GPS navigator works simultaneously with the media center and seamlessly combines route instructions with music. The multimedia center supports 99% of the world's languages (all languages supported by Google) and allows you to use the device in your native language.
Detailed description
Op. System Android 12 Coretex A53 (2,5GhZ) | 4 GB RAM | 64 GB ROM
Apple CarPlay & Android Auto: built-in wireless CarPlay and wireless Android Auto

Bluetooth 5.0 "hands-free" phone calls

Bluetooth 5.0 music streaming

Built-in GPS navigator Waze, Google Maps, iGo

USB input

Support for all android apps - incl. YouTube, Spotify, Gmail
Screen Mirroring displaying the phone screen on the media center screen

FM RDS radio

Ready to add a reversing camera

Compatible with the car's original steering wheel buttons

1080P video

1024 x 600 WVGA capacitive touch screen

CD/DVD player - No, model without DVD player
AVI / RCA outputs - Only possible by adding a special module "USBRCA".
HDMI output - Yes, but it is necessary to add a special "USBHDMI" module

Audio output power 4 x 45 W

DSP sound processor - Yes - built-in DSP processor
SIM card slot - No, but supports WiFi connection
Wi-Fi

- Yes, the wifi modem is built-in

GooglePlay - Spotify, Chrome, YouTube, Gmail, Facebook, Waze, GoogleMap, etc.

"Plug and Play"

- It is a universal size 2DIN radio. Installation may require the addition of a special ISO adapter and the addition of a decorative panel surrounding the radio.
Installing the radio! YouTube videos are helpful for self-installation, where you can find instructions for removing the original radio and installing a new radio. If you are not sure about the suitability of the product or you want to have the radio installed by an experienced expert, contact us via email info(@)automedia.ee - we will give you the contacts of the nearest installation workshop (in Tallinn, Tartu, Pärnu, Jõhvi, Rakvere, Helsinki).
2 DIN
Android GPS Multimedia Player
The car's system is a stand-alone Android device that is optimized for driving. With newest Android operating system, users install your favorite apps directly onto the car's system instead of their phones. All Android apps are supported - Spotify, YouTube, Gmail, Chrome, Facebook, Instagram, Waze, Google Maps, Sygic, iGo etc.
You can connect to the Internet via WiFi (for example, sharing the Internet with your phone) or using a 4G USB wifi modem (optional).
Universal 2DIN multimedia radio
2 DIN – XTRONS TEX726L This unit is with ISO standard dimensions. For installation you may need a custom fit decorative panel and a special ISO wiring adapter. If you are not sure about the suitability of the product or want to have it installed by an experienced expert, please contact us by e-mailinfo(@)automeedia.ee - we will give you the contacts of our cooperation partners (in Tallinn, Pärnu, Rakvere, Tartu, Haapsalu or Helsinki).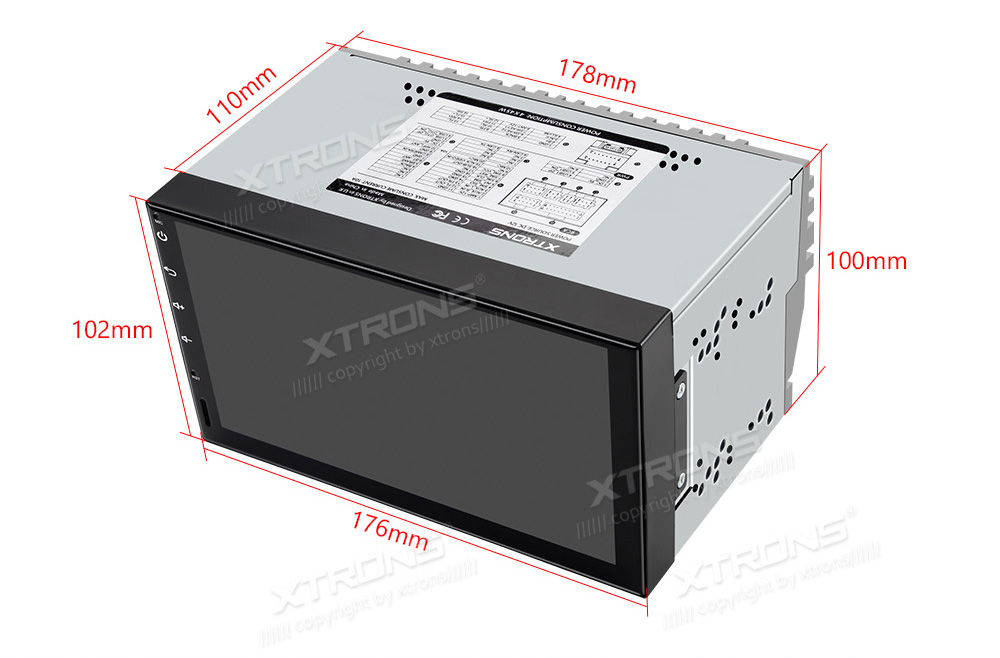 UI design
The user interface is specially designed for car use. App icons are large and easy to move according to user preference.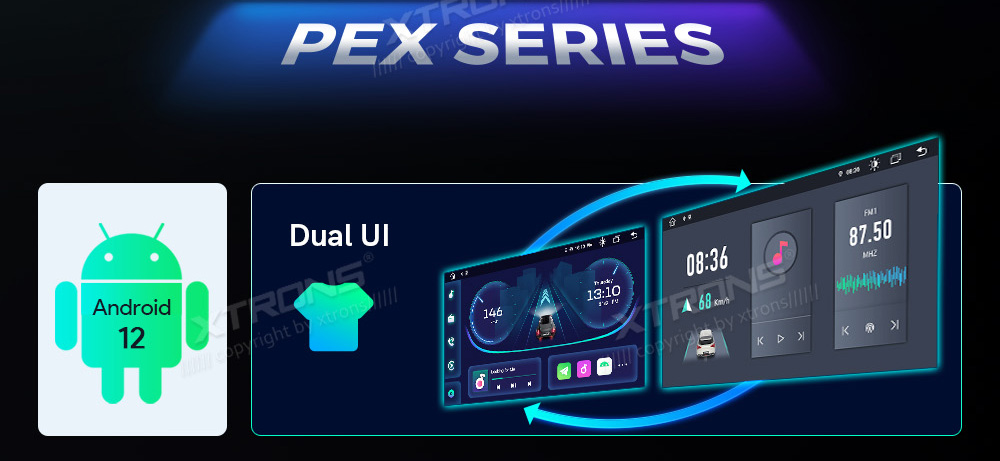 Octa-CoreProcessor
The performance of the device is guaranteed byCoretex A53 (2,5GhZ) Octa-Core processor with4 GB RAM and with 64 GB ROM.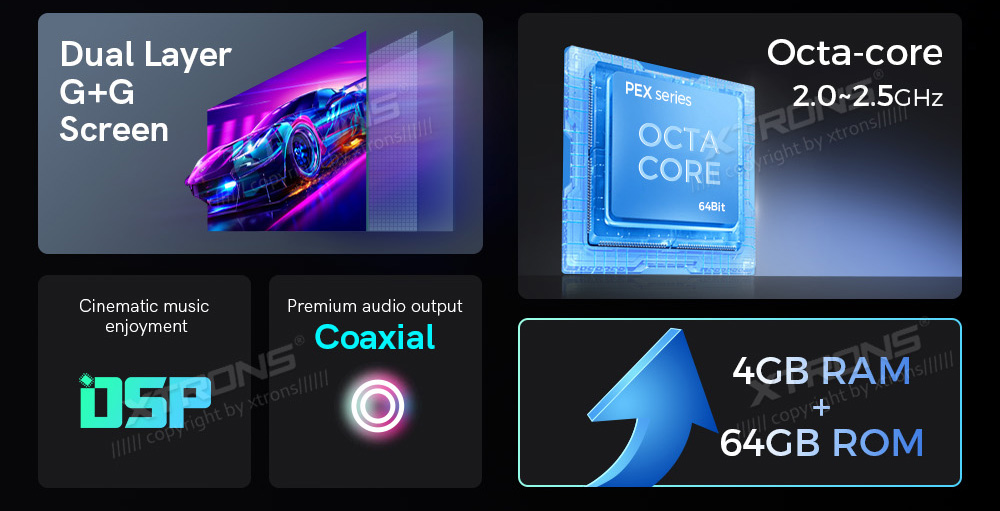 Google Play & Android apps
This car multimedia head unit with latest Android operation system, compatible with many Android app, running smoothly and fast. It allows you to download from Google Play Store your favorite apps such videos, navigation, games, Music. This mediaplayer also supports multiple media playback - can play music, movies, photos from local or U Disk.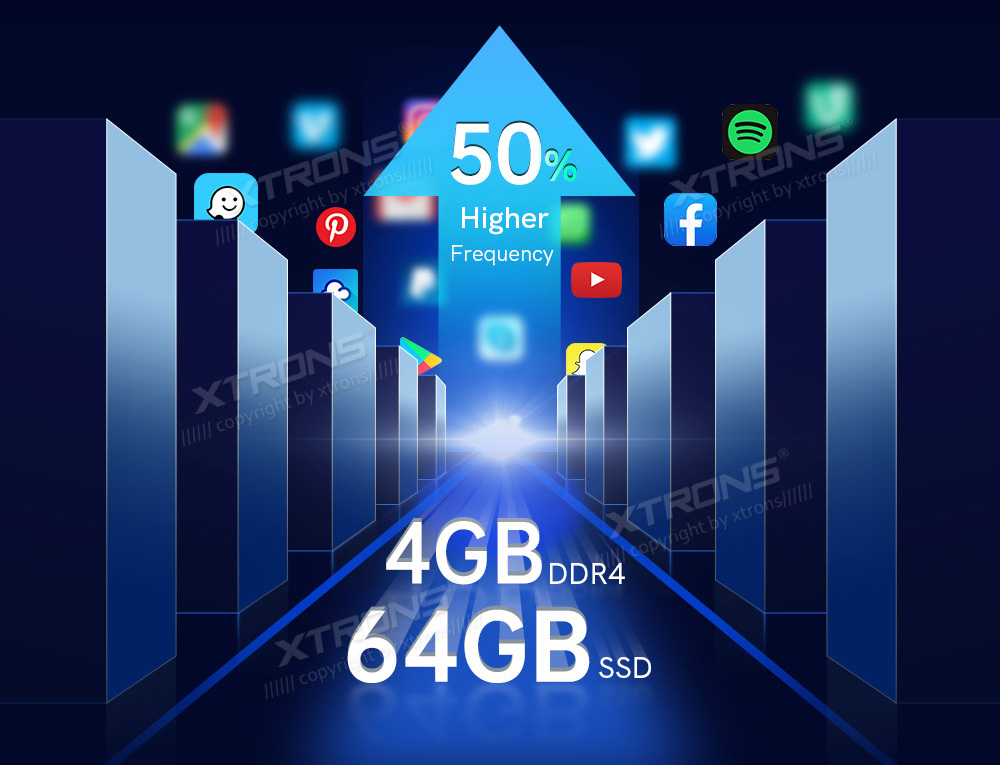 1080P Video Touch Screen
This unit is compatible with most video formats, allowing you and your passengers to watch your favourite movies on the road, with perfect clarity and definition up to 1080P.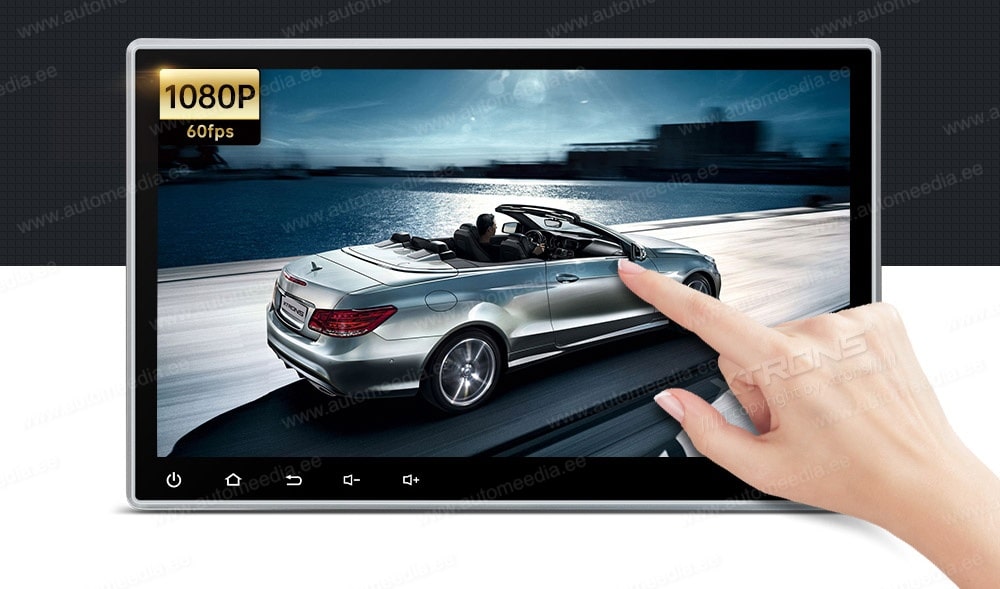 Picture in picture (PIP) video
With PIP mode enabled, you can do other thing such as navigation while watch video, perfect for multitasking.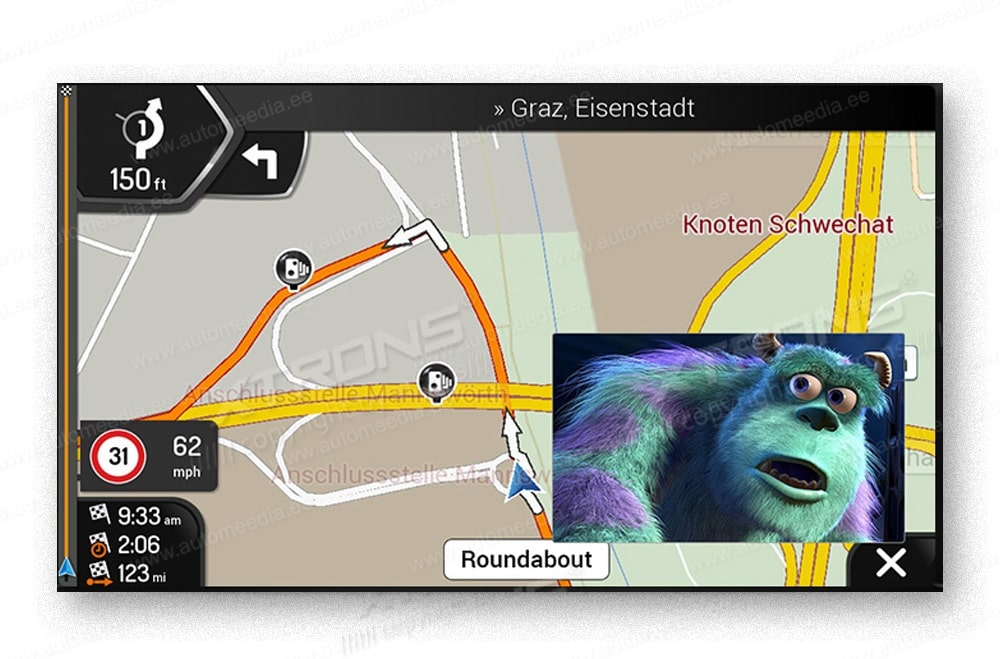 CarPlay (Built-in)
Car Auto Play takes the things you want to do with your smartphone whilst driving and puts them right on your car's display. You can get directions, make calls, send and receive messages and listen to music. Best of all, it is in a way that allows you to stay focused on the road..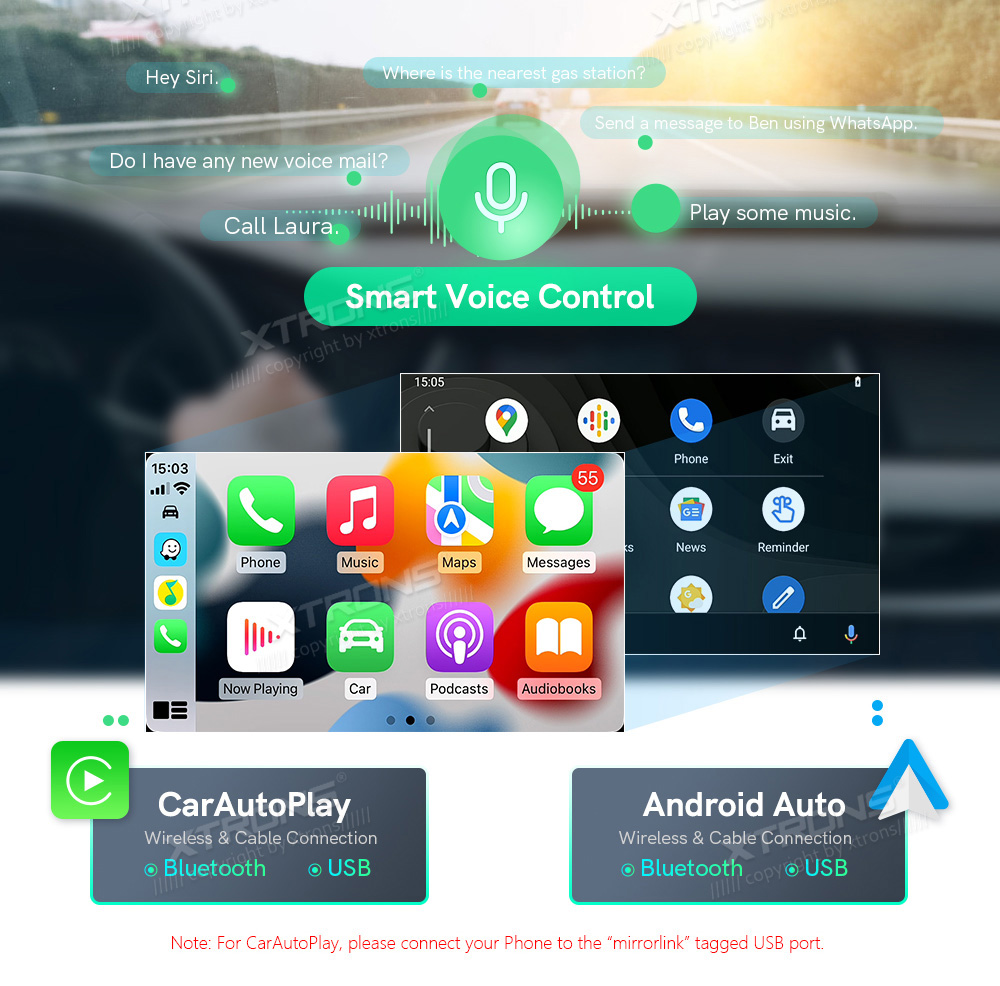 FM radio and USB / SD player
This Androd car radio built-in FM, with 18 preset stations. Use this car radio, you can listen to real time traffic, news broadcasts, weather forecasts. And you will never miss your favorite radios anymore. You can now load your favourite music collection, be it on USB or SD, directly onto the unit, so that you have direct and easy access to your music library whenever you want on your journey. Thanks to DAB+ technology, you now have more music stations available.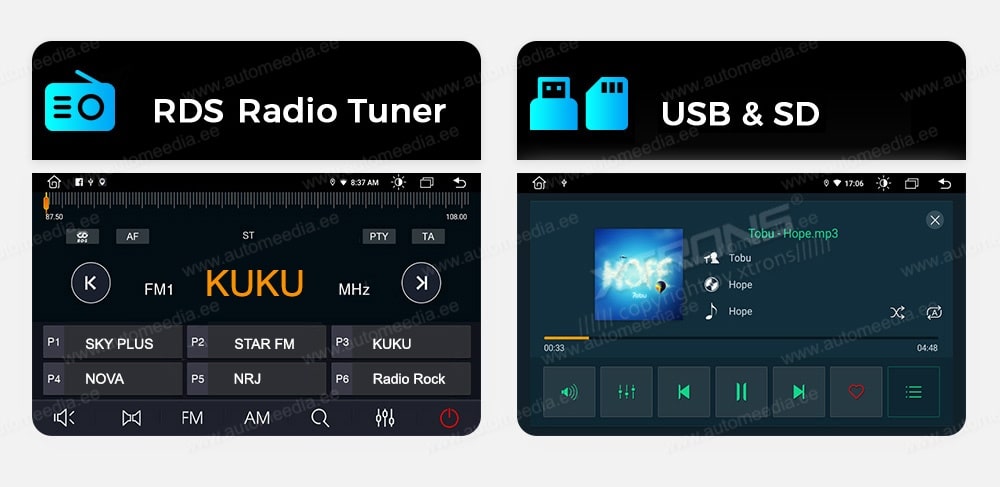 "Hands Free" calls & HD music stream
You can control many of the phone functions with your voice. Connect your phone to the unit via Bluetooth and tap the microphone icon on the unit screen to issue a voice command. You can do things such as get directions, make calls, send and receive messages and listen to music. Best of all it is in a way that allows you to stay focused on the road.


"DSP" - enjoy the ultimete audio experience
30-band Graphic Equalizer (32Hz to 20kHz), 5 Preset EQ Mode and Smart Bass - tailor the sound in detail to match your favourite music. Balance & Delay – Ensure the sound you're hearing arrives at your ears at the exact same time from each speaker, for the fullest effect. Loudness & Bass Filter – Accurate and vibrant sound whatever the conditions.


4 x 45 WAmplifier Output
With the built-in amplifier, you can enjoy superb sound, in perfect harmony with your in-car environment.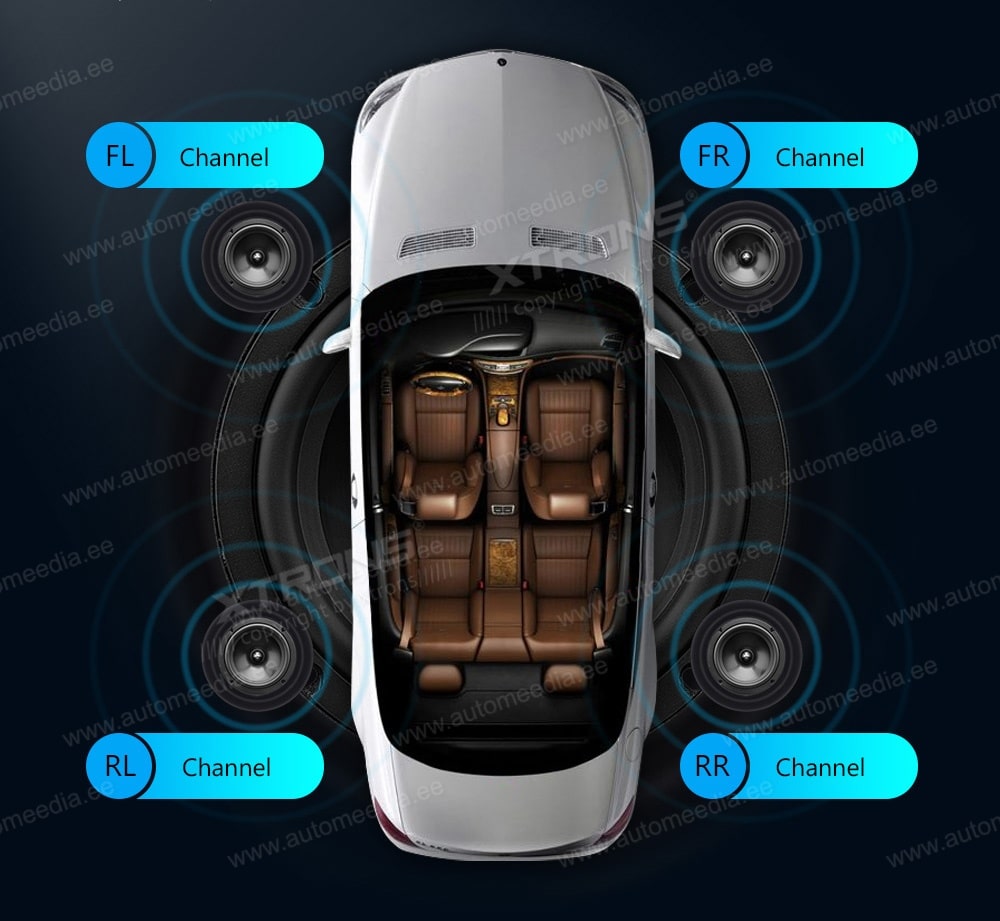 GPS Navigation with Online Maps
Support different navigation systems GPS, Glonass, Beidou and maps Sygic, iGo, Waze, Google Maps etc. Easy to get the latest roadway info and accurate direction.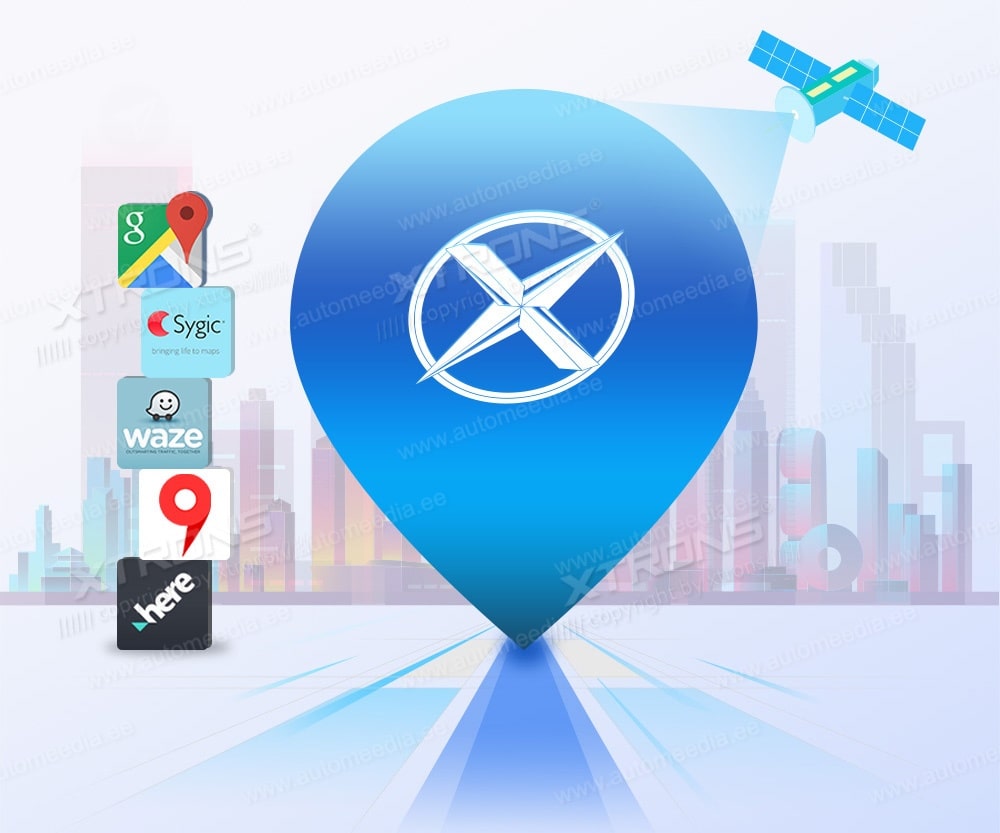 Accessories *
* Accessories are not included in the delivery package and must be ordered separately
DVR - Helps you record your journey on the road. The Xtrons video recorder always runs in the background while driving. Each time you start driving, the camera starts recording. Old files are automatically overwritten. The entire camera is controlled via the media player's touch screen.


OBD II Car Diagnostic Scanner
The Mini Bluetooth OBDII scanner is an engine performance and diagnostics tool for both automotive enthusiasts and professionals. Paired with your Android smartphone or tablet, the Mini Bluetooth allows you to easily scan and clear engine codes, view and save real-time engine data and much more.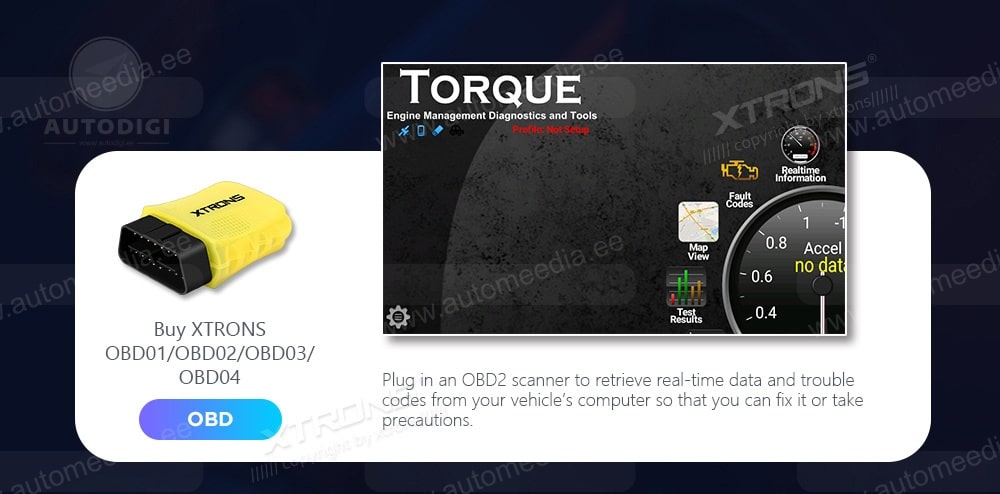 Instant Rear Camera Access
Get access to the backup camera quickly and automatically whenever you are reversing. XTRONS offers a wide variety of rear and front driver assist cameras. You can choose from simple reversing cameras with distance guides, up to HD (1920x1080) cameras with a wider angle to assist you in many driving stituations.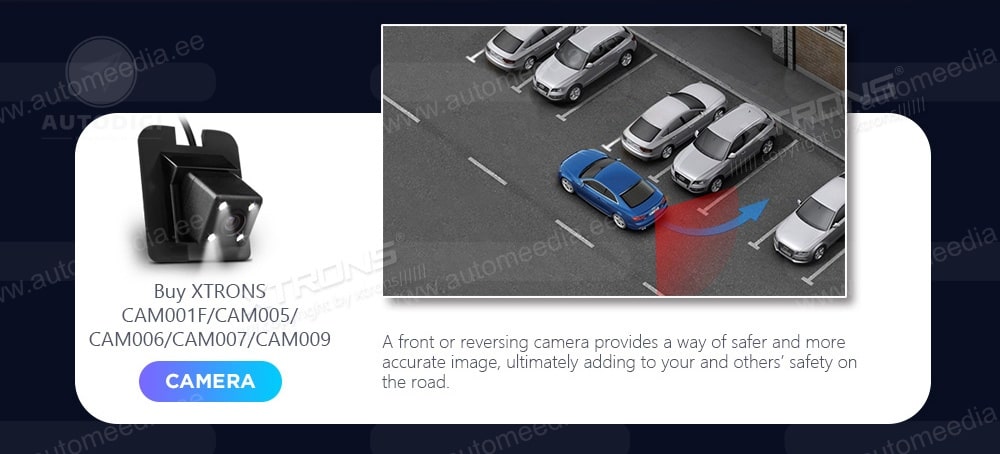 Wiring Diagram
If you are not sure whether the unit can fit your car, please send your car model, year and dashboard picture to: info(@)automeedia.ee