Bass set Alpine Subwoofer + amplifier + cables
SKU:
ALPINE BASSIKOMPLEKT
Delivery time:
3 - 7 working days
Bass set Alpine – Alpine SWT-12S4 subwoofer + Alpine BBX-T600 amplifier + Cable set
Files
This premium 1000W boxed subwoofer is ready to use for bass lovers. The safety net ensures that nothing in your car trunk can damage the element.
Subwoofer Alpine SWT-12S4
Max. input power: 1000W
RMS input power: 300W
Frequency range: 28-200Hz
Sensitivity: 92dB/W (1m)
Resistance: 4 ohm
Woofer Diameter: 30cm
Dimensions: 324 x 660 mm
Amplifier Alpine BBX-T600
The new BBX series is the best line of amplifiers in the base package. Perfect sound at the best price. The BBX series belongs to the same class as our PMX class products. With several different filtering systems as well as an adjustable bass EQ, they prove their worth in this price range.
Class AB Amplifier
Channels: 2/1
Max. output power 300W
Output power RMS into 4 ohms: 2x 50W
Output power RMS into 2 ohms: 2x 70W
RMS output power without bridge into 4 ohms: 1x 130W
Frequency range: 5Hz - 50kHz (+0.-3dB)
Signal to noise ratio (S/N): > 95 dB
Dimensions: 250mm x 52mm x 240mm
Weight: 1.9 kg
10mm2 Cable set
A set of cables with the necessary wires and accessories for connection
_____________________________________________________________________________________
Designed for Europe
This new BBX amplifier gives you Alpine power performance at an amazing price. And they're designed to fit easily in virtually any system.
High Power, Great Value
This amp delivers high output power and exceptional performance for their class. A great way to expand your sound system on a limited budget.
High Pass and Low Pass Filters
These two filters let you set the frequency points for the high, mid and bass ranges to match your speakers and ensure optimum efficiency.
Bass EQ for Best Bass
Performance With Bass EQ, you can maximise the performance of your system and get even more powerful bass.
FEATURES
Install
Terminal Layout: Two-Sided
Screw Mount / Wire Cover: Integrated Wire and Mounting Screw Terminals
General
Amplifier Type: Class-A/B
Channel Design: 2/1 Channel
Thermal Control: Thermal Management Control
Power Supply: DC-DC PWM Power Supply
Power Supply Design: MOSFET Power
Current Protection: Over-Current, Over-Voltage and Thermal Protection
Crossover: Variable Low-Pass / High-Pass
Green/red Status LED
1 pair RCA pre-inputs
1 pair RCA pre-outputs
SPECIFICATIONS
Max Power Output Ratings
RMS Power Ratings
Per Channel into 4ohms (≤1%THD+N): 2 x 50W
Per Channel into 2ohms (≤1%THD+N): 2 x 70W
Bridged into 4ohms (≤1%THD+N): 1 x 130W
Sound Tuning
Crossover Frequency (Variable, OFF/LPF/HPF Selectable)
1/2 Ch: LP: 50Hz – 250Hz HP: 80Hz – 1.2kHz
EQ (Equalizer): Bass EQ Fixed Frequency 45 Hz, Q=0.5, Variable Gain 0dB to +12dB
Dimensions
Footprint: 250 mm x 52 mm x 240 mm
General
Power Requirements: 14.4 V DC (11 V to 16 V)
Input Sensitivity: 0.2 - 8.0 V
Frequency Response: 5 Hz - 50 kHz (+ 0,-3 dB)
Speaker Impedance: 4 or 2 Ω
Signal to Noise: S/N Ratio (IHF A Weighted, Reference: rated power into 4ohms) 95 dB
Weight: 1.9 Kg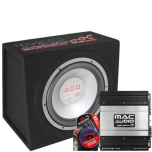 Bass set Mac Audio subwoofer + amplifier + Cable set
SKU:
MAC1 ,
Delivery time:
3 - 7 working days
178,00 €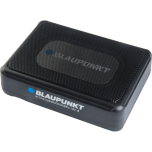 SKU:
GTw 190 A ,
Delivery time:
3 - 5 working days
169,00 €